Hoe woon jij in 2050? Fantaseer mee…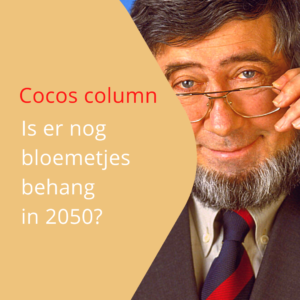 Hoe zouden we in 2050 wonen? Ik ben benieuwd wat Chriet Titulaer zou zeggen (je weet wel die futuristische man met baard van het Huis van de toekomst). Een aantal van zijn voorspellingen is realiteit geworden. Wat zou hij voorspellen voor over 30 jaar?
Als je je fantasie de vrije loop laat, hoe zie jij jezelf wonen over 30 jaar?  Wat gaat augmented reality (AR) doen in ons leven en in ons huis? Nu is dat nog een grote geavanceerde bril die je op moet zetten. Zijn er over 30 jaar misschien AR lenzen waarmee je de realiteit naar je hand kunt zetten?
Leven we dan in compacte cubicles in een grote ultra geconditioneerde ruimte en richten we ons 'huis' visueel in met Augemented Reality? Dat je qua meubels alleen een bed, tafel en stoel nodig zou hebben. En die mogen gewoon helemaal wit zijn, zoals Jan des Bouvrie het zou willen.
Want de rest projecteer je zoals je wenst. Lachen toch! Zit je naast elkaar op de bank een tv programma te bekijken (old school), heeft de één bloemetjes behang op de muur als uitzicht en de ander een enorme surfposter. En dat zonder geruzie. Ik weet zeker dat het aantal -we zijn op elkaar uitgekeken- scheidingen drastisch zouden afnemen. Je ziet je partner elke dag in een ander perspectief en in de setting die jij wenst. Nooit meer saai dus.
Kies elke dag een ander interieur en woonomgeving
Misschien kunnen we wel per dag onze eigen ruimtelijke beleving kiezen. Dat zou lekker avontuurlijk zijn. Vandaag woon je in een boerderij in Klazienaveen en morgen in een penthouse in New York. En zou je dan bijvoorbeeld ook virtuele stoffen, zoals wol of zijde, die je met AR lenzen kunt zien, ook digitaal kunnen voelen of ruiken?
Met AR heb je geen echt interieur meer nodig in je 'privédomein' of hoe je huis dan ook heet. Echte huizen staan dan alleen nog in het open luchtmuseum. Als musea er nog in het echt zijn tenminste. Echte huizen zouden weleens een uitstervend ras kunnen worden.
Leuk om een beetje te fantaseren, maar gekkigheid natuurlijk. Terug naar de realiteit: je eigen huis.
Als jij met een andere bril naar je huis kijkt:  wat kun jij doen om je huis beter naar je wens te maken? En vind je het leuk om daar komend jaar bewust over na te denken?
Met de Cocos cursus creëer je in vijf stappen een opgeruimd en sfeervol thuis. Vind jij het leuk om mee te doen? Het is interactief en je kunt allerlei vragen stellen. We denken graag met je mee over jouw/jullie thuissituatie. Via deze link kun je je aanmelden:
https://www.cocosyourhome.com/aanmelden-basic/
CocosYourHome!
David Ros Mr. Cocos
https://www.cocosyourhome.com/wp-content/uploads/sites/148/2020/11/Huis-toekomst.jpg
388
620
cocosyourhome
https://cluster.swstatic.nl/wp-content/uploads/sites/148/2020/09/weblogo-cocos-your-home.png
cocosyourhome
2020-11-06 17:06:48
2021-02-25 22:06:10
Hoe woon jij in 2050? Fantaseer mee…